2023 Panhellenic Council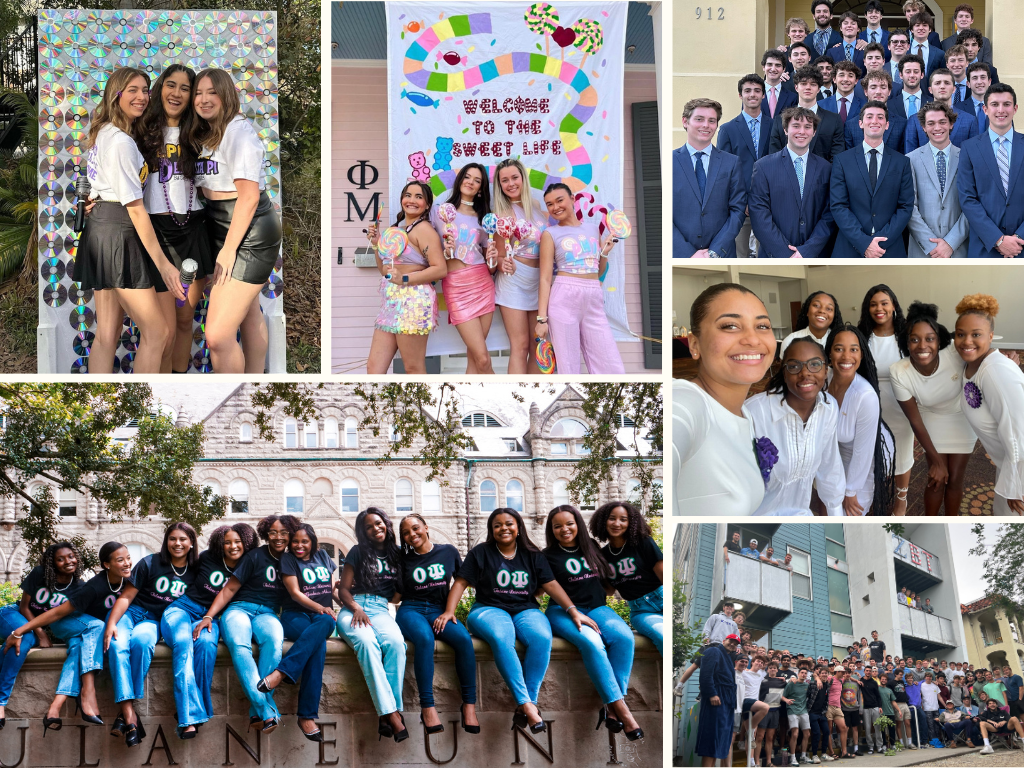 The Tulane University Fraternity/Sorority Community participates in deferred recruitment, meaning entering first-time first semester freshmen may not join fraternities and sororities. Deferred recruitment allows students the opportunity to adjust to academic life at Tulane before taking on the additional time commitment of a Greek organization.
During New Student Orientation and throughout each fall semester, there are a variety of events, informational sessions, and meetings where students may sign up for more information and meet current members of the Tulane Greek Community. Those events and dates will be listed on the OFSP website and WaveSync. Please contact our office or an organization president with questions.
Eligibility Requirements
To be eligible to participate in recruitment or intake, prospective members must:  
be a full-time, degree-seeking Tulane student
have earned 12 hours with a minimum 2.5 cumulative GPA in those hours.

For students whose first semester of enrollment at Tulane will be Spring 2024, at least 6 of those 12 hours must be from graded, college-level courses accepted for credit by Newcomb-Tulane College. Because you will not have a Tulane GPA, we will use grades in all college-level courses you have taken from Summer 2023 forward to calculate your GPA and determine your eligibility. This means we will include any grades below a C if the class is approved to transfer, even though you would not earn Tulane credit, per university policy.  Courses that have not been approved for transfer into the Newcomb-Tulane College will not contribute toward this calculation.

be in good standing with Tulane University.

For the purposes of recruitment and intake, good standing is defined as not having received a Student Conduct sanction of Disciplinary Probation or Deferred Suspension and not being placed on Honor Board Probation for academic misconduct. 

not found responsible for a drug possession violation.
successfully complete all (6) components of our Potential New Member Education series. All information about these programs will be sent at the beginning of each fall semester month to students' Tulane email. Most requirements will be completed through the PNM Ed Series Canvas page. Students may self-enroll in the Canvas course. After November 30th, students will be manually added to the course based on registration. 

Alcohol Education: My Choices, Our Legacy
Equity, Diversity & Inclusion: EverFi Training
Hazing Prevention: Tulane Hazing Prevention Module 
Sexual Violence Prevention: Sexual Literacy 
QPR: Question, Persuade, and Refer
Small Group Session w/ Greek Ambassadors: All potential new members MUST attend a small group session. Students can register for a session via the Office of Fraternity & Sorority Programs WaveSync page.  Completion of other PNM Education Series requirements is not required to register for a session.  
These are the minimum requirements set by the University. Each fraternity or sorority has its own policies regarding membership, and many groups have higher requirements.
Please Note
First-year students will NOT be permitted to attend social events with alcohol hosted at fraternity houses for the first four weeks of classes (this does not apply to designated fraternity recruitment events, which do not include alcohol).  
Exceptions
The Office of Fraternity and Sorority Programs does not make exceptions to the requirements to join a Greek organization. First-year students who withdraw from a course and earn fewer than 12 hours will not be allowed to participate in recruitment or intake. Any issues of academic discrepancies (incomplete courses, contested grades, questions about transfer credit, etc.) must be resolved before recruitment or intake begins. Students should consult the recruitment/intake guidelines for the type of organization they hope to join to find the deadlines for resolving academic discrepancies.
Fraternity & Sorority Interest Form
Click on the buttons below for detailed information about recruitment and intake for each council:
Interfraternity Council   Multicultural Greek Council
   
National Pan-Hellenic Council   Panhellenic Council